Welcome to the sixth Annual YEGPIN
Pinball and Arcade Expo which will be held July 20 – 23, 2023
The show is a full four days and is held in two full arenas (28,000 sq ft.) at Millennium Place, 2000 Premier Way, Sherwood Park, AB.
The facility is in a large recreation center that holds a number of large events year round. It has a swimming pool, full workout area, indoor track, skating rinks, full gymnasium and food court area. Sherwood Park which on the outskirts of Edmonton is a booming hamlet with lots of food and entertainment options and the facility is location just off of the Yellowhead highway for easy access. There are tons of free parking at the event and a number of great hotel choices available.
YEGPIN is a great show for those whom are interested in playing unlimited pinball and arcade games on our free play floor, buying machines and parts or playing in competitive pinball tournaments. YEGPIN offers an opportunity once in a year to relive your younger days with some of the classic pinball and video arcade games from your childhood. A chance to play the latest and greatest pinball games and revisit those classic video arcade games from your childhood. Come on out check out our awesome show.

See what the resurgence in pinball and video arcade is all about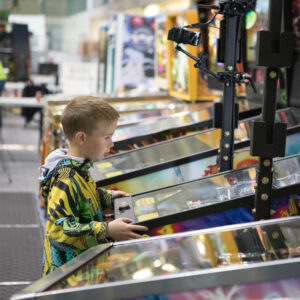 Our state-of-the-art location has the capacity to now hold over 225 pinball machines, 50 classic video games, and other game room goodies that will be set up on free play for everyone to enjoy the entire weekend. YEGPIN will strive to showcase the best pinball and arcade collections in the city and provides you with 4 fun-filled days of playing pinball machines and video arcade games.
The event will also be hosting four certified IFPA (International Flipper Pinball Association) backed pinball tournaments for which you will receive WPPR points (World Pinball Player Rankings). This will be a great, friendly competition that is open to novice and advanced players alike, in which, we offer customized trophies and cash prizes to the winners.
One of those pinball tournaments is an opportunity for our non-profit show to give back to the community that supports us. On the full four days we will be putting on the Knockout Cancer Pinball Tournament where a portion of the proceeds raised will be donated to a charity of our choice. Last year we raised $5,000 for the Alberta Cancer Foundation, this year all proceeds will go to support the Kinsmen who will be contributing to the Terry Fox Foundation on our behalf.
As if that weren't enough, we have a space for a full licensed area, and our games room is open late on Saturday night for our YEGPIN After Dark celebration.
There will also be special rates set up for hotel guests that want to come visit from out of town. See the hotel partners here.
Find out how get in FREE for the entire weekend, or win your very own pinball machine when you bring a game! T-shirts, tournament entries, and other merchandise from our vendors will be available for sale at the show. You can find details on the pricing for the event on our admission page.
There will be a silent auction for a chance to buy pinball, arcade and game room related items, different groups of merchandise will be put out on the Thursday – Saturday with all proceeds going back to support this event.
YEGPIN is an international show and was attended by over 1,500 people in our last show. Our goal is to have the biggest in Canada, and one of the best in the entire world !!!
Get your tickets and you have an opportunity to experience it first-hand, it's going to be a great weekend.