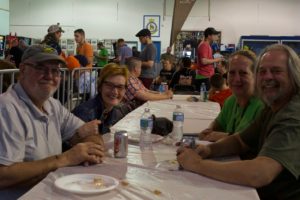 The VIP party is on Friday May 1, 2020. It is a celebration of all things pinball and arcade, and is an opportunity for the show to give back, by throwing the best damn party for our donors, volunteers, vendors, sponsors and VIP special guests. We award the best in show ribbons for both pinball and arcade machines, followed by the main prize draw! This main prize draw is for a refurbished and restored pinball machine!! (See bring a machine for more details)
We are so thankful for the support from all our donors that we want to give back to the community as well! Thanks again for helping to make YEGPIN an amazing success, we couldn't do any of this without all your help!!
There is special presentation provided to recognize our partners, volunteers, executive and sponsors that help us put on this yearly event. There is awesome food served, drink specials, music, free play pinball and lots of fun to be had all night. So come on out and support the show by attending YEGPIN's marquee event.
The only way to get into this exclusive party is to:
Buy an Ultimate VIP or Hardcore Tournament ticket
Volunteer for the event (at least 9 hours of volunteer time)
Donate a machine to the event
Become a vendor or sponsor at the show
Please note this is truly an exclusive event and only 150 VIP tickets will be sold, so don't wait or you will miss out like a few people did last year who waited!!!
SaveSave